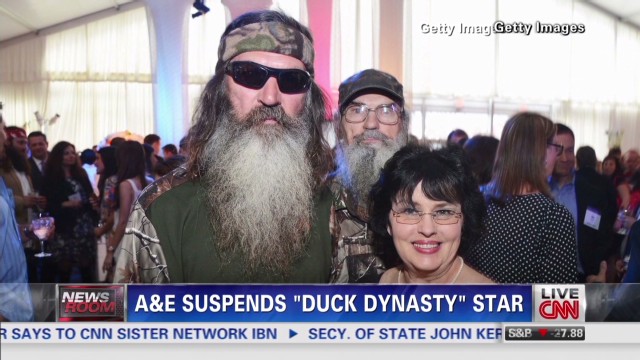 It is times like these where I love having a platform to spout off my views :)
So here is what I know. Reality star Phil Robertson was interviewed by GQ and made some remarks about gay and black people that seemed pretty in character with who he is.
So I am not surprised that an old/elderly man from a small town in the south has less than progressive views about things. (I personally feel the things said about black people were a lot more telling of his worldview than his feelings about gay people)
I mean, it is no surprise that this family is Christian: they pray at the end of each show, they do appearances at mega-churches, and even sell Duck themed Bibles (which I find utterly ridic.).
I know that gay people want and deserve equal rights and not to be discriminated under the law. No one should ever be deemed a second class citizen in that regard. But are we not allowed to have opinions anymore? This isn't exactly a free speech issue because that only means that Phil cannot get arrested for saying what he said.
My real issue with this entire (what feels like a prefabricated) controversy is the idea that when under the employ of someone, we really don't have free speech.
I understand that it works a little differently when you are a TV star vs an accountant at a small ID badge company, but is it that far off? Because it is funny to me that Alec Baldwin, Michael Richards, Chris Brown, I could go on... have been caught saying and doing utterly terrible (not to mention illegal) things and have essentially zero repercussions in their profession. The irony is not lost on me that Phil the reality star being interviewed as himself - the exact same person he is portraying on TV - saying things he would say as himself, is deemed unacceptable by the network. The reality TV curtain has been lifted (ha!).
But since we pretty much all have jobs working for someone else, are they always going to have some sort of control over what we can say or do outside of our workplace? I get it that I cannot end my email signature on my work emails with 'white power' or 'Thanks Obamacare'. Inappropriate. And when I am sending an email from my work email address I am a representative of my organization. But if I want to go spout off a blog about how I think Ted Cruz is the biggest turd who ever lived and voted into political office, should my workplace be able to have that sort of reign over me? Maybe not as a random joe office worker, but say if I were a teacher. Don't their facebook accounts get scrutinized all the time? I fear for Aaron's future as an educator with the type of stuff that goes on on his facebook...
Things tend to get heated and probably can offend sensitive folks if your view is different...
Set your page to private, dear.

In conclusion, I just feel it is unfair that you aren't allowed to state an opinion outside of your workplace without fear of losing your livelihood. He wasn't threatening anyone, merely expressing his views.
But as for everything else on this topic I think this sums everything up nicely:
the end.

What do you think about this? Watch the show? Let me know!