I am in a total funk with blogging lately so I referenced
this old post of mine
for a random topic, and I the topic was reasons to move in with someone. Here goes nothing!
Room Mates:
Reasons to move in with a room mate are easy. You want to save money, and you get along mostly with the other person/people who also live there. I have had a load of room mates in my day, and it is funny how no matter how well you get along with someone else, it isn't necessarily an indicator of how well you will get along as room mates. You really need to find someone who has the same room mate expectations as you in regards to social and housekeeping scenarios.
If you are a slob, living with a neat freak is going to be a challenge on at least one of you. If you just want to share a roof and nothing else and the other person wants a built in bff, that might be awkward. If you work late nights and your roomie has to be up at 6am, that might be annoying with the noise/lifestyle differences.
I think everyone should be a room mate at some point in their life. I think it gives you crucial skills in regards to communicating and compromising. Plus it is usually a pretty good deal financially.
Moving in with your lover: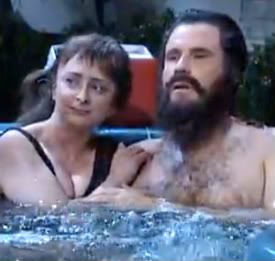 I am not a big fan. I was brought up with the notion that you don't live with a significant other until you are married. Yeah it is old school, but it was an important thing to my Mom and all parties involved in judging my life, so that was that. Honestly though, I was never super serious with anyone long enough for me to want to take that step, so it all kind of worked out. Plus, I like my own space. I miss it. lol.
Am I against it? I can't say yay or nay because every situation is different. When I see Jenelle from Teen Mom inviting every boyfriend she gets to move in after a month, I am absolutely against. But nearly everyone I know lived with their now spouses before they were engaged and married(or not). And it was fine. We are all adults here. I think it is probably best if you are in a solid, time tested union before sharing a home with someone. If only to protect yourself from being emotionally hurt if it doesn't work out/being stuck in a lease you can't get out of. I know it isn't romantic to think it will end, but without a marriage certificate or a ring on your finger, the other person really doesn't owe you jack and can hit the bricks at any moment - it happens every day, and it is foolish to ignore that fact. All I suggest is that one be smart about it if you are going to do it.
I wonder though, had Aaron and I lived together before we were married, would we even have made it? I can't speak for Aaron, but I needed the entire first year to get used to him and how he lives and how to not go insane with his quirks that drive me up the wall. When I didn't have a marriage forcing me to work it out or be miserable, I might have thrown in the towel because it is too hard to live with a man who leaves EVERY SINGLE cabinet door open every single day. I am not even sure why one would go into some of those cabinets on a daily basis, but that is where we are at. When I was dating in my younger years I was pretty quick to bail on people when I didn't see long term potential (or as soon as the 'new relationship' fog had lifted) and I worry that had I been Jenelle and living with them, I'd be too afraid of ending things because I wanted to be nice and not cause a big fuss of having to move, maybe finding a new room mate, and all the drama. I might be nice enough that I'd stick around so long that I'd be unhappily married to someone who deserves to be with someone who truly thinks they are thebomb.com. I wonder how many people this has happened to? Scary thought.
So that is my take on living with people. Agree or Disagree? Additional thoughts? Lay 'em on me!