Hi all, I am linking with Leslyn at
Leslyn's Lovely Life
for Tuesday Tunes! I just love finding new music! :)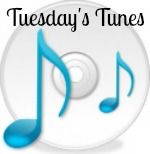 My selection for the week is Tilly and the Wall's 'All Kinds of Guns'.
I have loved Tilly and the Wall for a billion years by now, and this is from their new album. If they are ever in your town, I highly recommend going to their show, it is the most fun you will ever have watching live music. and they have a tap dancer instead of a drummer. I am talking FUN, people.
Sorry for this fake youtube video, they don't have a real music vid for this song, but it is one of my faves. Hope you enjoy!